Why Is Regular Car Maintenance Important?
"The Works" packages starting at
$89.99 + taxes
The best value oil change package we offer! It includes an oil change, tire rotation, brake inspection, up to 83-point inspection and Vehicle Report Card; All performed by Ford-certified technicians using quality parts. The package includes up to 5L of oil. Additional charges for Full synthetic oil and any oil required over 5L.


Do I Need My Brakes Checked?
Brake inspection
$74.95 + tax
Inspection fee waived for brake work completed on same visit. Brake inspection also included in "The Works" package at no additional cost.






Do I Need an Oil Change?
Oil changes starting at
$59.99 + taxes
Oil Change Requirements as per Ford's Maintenance schedule (Found in your owner's manual):

For vehicle's operating with: Moderate to heavy load or towing, mountainous or off-road conditions, extended idling or extended hot or cold operation: With Ontario's climate regular oil changes are recommended every 8000 kms.

All About Cabin Air Filters
Cabin Air filter replacements
$99.99 + tax for most makes and models
If you don't change your cabin air filter, the filter will become more clogged with dirt and debris. The efficiency of the filter and your car's HVAC system may be compromised. The air volume into your passenger compartment will be continually reduced which can lead to the issue of foul odours inside your car.

Do I Need A New Battery?
Battery replacement starting at
$270 + taxes
The life expectancy for your car battery is typically around 5 years. Several factors determine how long your battery will last, such as weather conditions, vehicle type and driving habits.




Do I Need New Tires?
Call us for pricing
"Did you know that when tread wear limit is reached, handling, braking, and water clearance will significantly be decreased? Tire condition plays a very important role in the driving characteristics and the general safety of vehicles. Watch the video to learn more.




Do I Need a Tire Rotation?
Tire rotations starting at
$60 + tax (included in "The Works" package)
Rotating your tires helps even out tire wear and allows them to last longer.


Do I Need New Wipers?
OEM Ford front wipers (pair) starting at
$55 + tax installed
Recommended to be replaced at least once every 12 months.



Do I Need a Wheel Alignment?
4 wheel alignments
$144.95 + taxes
Recommended once a year under normal driving conditions or anytime large potholes or curbs have been impacted while driving.

SCHEDULED MAINTENANCE FOR 2007 AND OLDER VEHICLES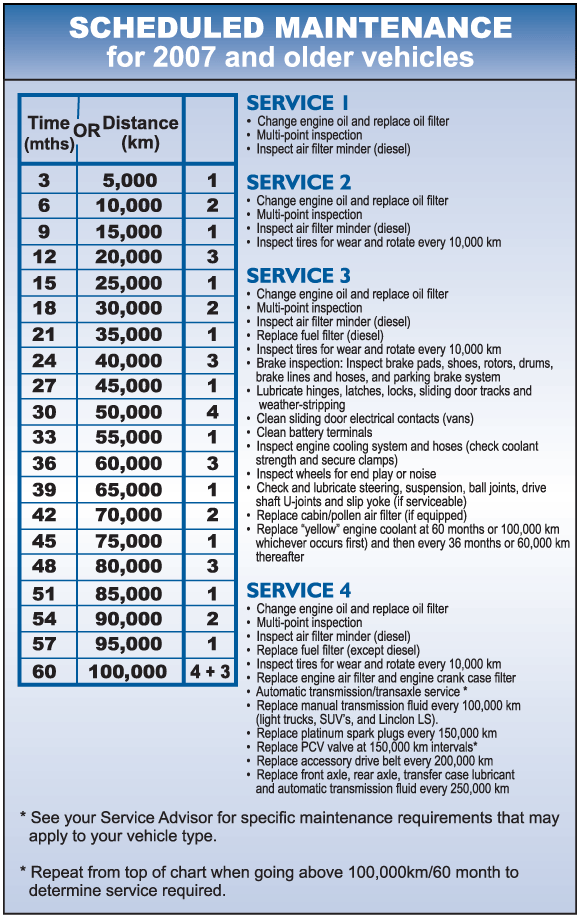 SCHEDULED MAINTENANCE FOR 2008 AND NEWER VEHICLES